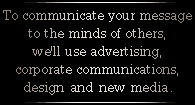 Welcome to the world of The Reid Group. We develop communication solutions through strategic thinking, targeted creative and the smart use of technology. This includes strategic planning, corporate branding and positioning, product branding and positioning, new product introductions, product revitalization, training tools and cross promo opportunities.
At the recent Multimedia Market 99 trade show in Stuttgart, Germany The Reid Group partnered with The Galileo Group to join Team Canada for an international trade show and conference. See the photo collection and links to other Canadian business leaders.
The Reid Group is proud to be a winner of two new 1999 International Summit Creative Awards. This represents winnings three years in a row.